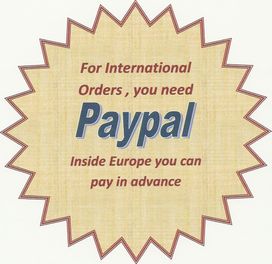 Payment Methods
Payments

We accept paypal payments worldwide and bank transfers only inside Europe.

We will not send your item until the payment has come.

Please pay within 7 days of your order, otherwise we will delete it.
By Paypal :
For Paypal Payments you can send the money directly to our Paypal account following the on-line payment process.
( You can also send the money to our Paypal Account by using : info@mio-quadro.com , as receivers email address ).
You can pay with your credit or depit card just in few seconds.
Not necessary to have a Paypal Account .
Note: Paypal is the easiest, safest and quickest way of payment for your online orders.
(For more informations , please visit : www.paypal.com ).
By Bank Transfer  :
You will find our banking details when finishing the order as well as by email on the order confirmation. Then you will be able to perform the transfer at your bank.
Otherwhise you can send the money in one of the following personal bank accounts :
Name : Ioannis
Surname : Xenos - Kotsilas
 -     NATIONAL BANK OF GREECE  
( SWIFT / BIC CODE : ETHNGRAA )
Account Number : 345-402970-40

IBAN Account : GR8701103450000034540297040.
-     PIRAEUS BANK
( SWIFT / BIC CODE : PIRBGRAA )
Account Number : 6725-138065-053

IBAN Account : GR1501717250006725138065053.
-    ALPHA BANK
( SWIFT / BIC CODE : CRBAGRAA )
Account Number : 772-00-2002-011-714

IBAN Account : GR3501407720772002002011714.
-      EUROBANK
( SWIFT / BIC CODE : EFGBGRAA )
Account Number: 0026–0467–78–0200066508
IBAN Account: GR5202604670000780200066508.
As soon as we received the payment , the order will be shipped.
Before selecting bank transfer as your payment method , please be aware that your bank will charge you an international transfer fee , therefore increasing the overall cost of your order.
Once your payment is received , we will dispatch your goods.
The processing of off-line payments may take several days.
Important : Please transfer the total invoice amount using your name and the reference indicated when you are finishing the order.
Online through Winbank EasyPay System of Piraeus Bank :
Make click in the icon and you will be transfered in a secure page of Piraeus Bank to pay with your credit card.